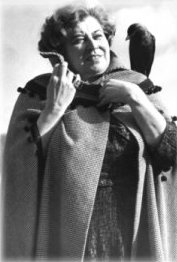 SYBIL LEEK
Sybil Leek was one of the first Witches to become public back in the 1960's. She was often accused of becoming a sell-out, because of her media attention and odd ways. With the publishing of her autobiography, Diary of a Witch Sybil announced that her style of Witchcraft was not dead and never had been.. She attracted public attention for almost everything that she did.
In the beginning of Sybil's public life as a Witch, her adherence to the craft cost her dearly, as landlords cut off leases on her secular antique stores, and others made her targets of general prejudice against Witches. Her family was acquainted with Aleister Crowley, and he felt that she would be the one to take over where he left off.
Sybil was one of the first of the popular Witches to take up environmental causes...She was a master astrologer, and a gifted psychic. Sybil passed on in 1982, at an unknown age...and she lived to see the establishment of Wicca as a recognized religion.
Sybil Leek was an English Witch, a gifted Psychic, Astrologer and prolific Author who wrote more than 60 books on such subjects as Astrology, Numerology and Reincarnation. She was born with a witch's mark and claimed to be a hereditary witch of Irish and Russian Descent. A colorful character in her time, her trademarks were a cape, loose gowns and a pet jackdaw named Mr. Hotfoot Jackson perched on her shoulders. She always wore a crystal necklace that she claimed had been passed down to her from a psychic Russian grandmother. Her entire family was involved in astrology and some of the guests who visited her home included: H.G. Wells, Lawrence of Arabia and Aleister Crowley.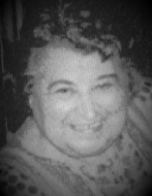 Sybil claimed to be able to trace her mother's ancestry back to the witches of southern Ireland in 1134, and her father's ancestry to occultists close to royalty in czarist Russia. Her most notable ancestor was Molly Leigh from Burslem near Stoke-on-Trent, and her choice of a pet Jackdaw as a familiar, bears an uncanny relationship:
Molly Leigh
As the story goes, Molly was born in 1685 and lived in a cottage on the edge of the moors at Burslem near Stoke-on-Trent. Molly was a solitary character who never married; she talked to the animals and kept a pet Blackbird. She made her living selling milk from a herd of cows to travelers and passers-by. An eccentric person, the Blackbird was often seen perched on her shoulder as she delivered milk to the dairy in Burslem.
Molly was known for her quick temper and the people of Burslem were suspicious and frightened of her. This was not uncommon in those times, for throughout the country 'women' and particularly elderly women who lived on their own in remote places, were labeled as witches.
In Molly's case it was the local vicar the Rev. Spencer who made witchcraft accusations against her. He claimed that Molly sent her Blackbird to sit on the sign of the Turk's Head pub, a pub that the vicar frequently visited, and when it did the beer turned sour. She was also blamed for other ailments suffered by numerous townsfolk.
Molly died in 1746 and was buried in the Burslem churchyard, but then many claimed that her ghost haunted the town. A short time after her burial, the Rev. Spencer along with clerics from Stoke, Wolstanton and Newcastle went to open her cottage and retrieve her pet Blackbird. When they arrived they were shocked to see Molly (or an apparition of her), sitting in a favorite armchair knitting with her pet Blackbird perched on her shoulders (just as she had often been seen in real life). Frightened, the vicar and others returned to the graveyard and reopened her grave. They drove a stake through her heart and threw the living Blackbird into the coffin. The vicar then decreed that as she was a witch, she would not rest easy until her body was buried lying North to South. To this day, Molly's tomb is the only one that lies at right angles to all the other graves in the churchyard.
Sybil took special pride in being descendant from Molly Leigh, and on a visit to Burslem she visited Molly's grave. Later she was seen about town with her own pet jackdaw perched on her shoulders, following the same custom that old Molly had done before her.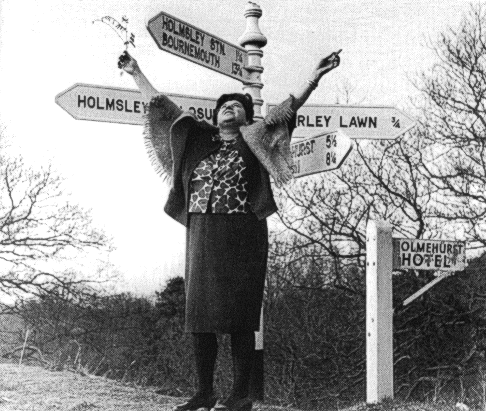 Sybil at a crossroads near her home in Hampshire.
Sybil was born on the 22nd February 1923 in Straffordshire, England. From an early age she lived and grew up in the New Forrest area of Hampshire and demonstrated an early gift for writing. The New Forrest is one of the oldest forests in England and is steeped in folklore and witchcraft associations. The same area is where Gerald B. Gardner first joined Old Dorothy Clutterbuck's coven in 1939. That coven was reportedly descended from one of Old George Pickingill's famous Nine Covens. Sybil claims that during her time in the area, there were still four old covens that had survived from the days of King William Rufus.
In 1932 when she was only nine years old, Aleister Crowley became a frequent visitor to her home. She claims to have spent time with him climbing the mountainsides and wondering through forests near to her home. In her autobiography Diary of a Witch (New York: Signet, 1969.), Sybil wrote that he talked to her about witchcraft and recited his poetry while encouraging her to write her own. He also instructed her on the use of certain magickal words used for their vibratory qualities when used in magick.
Sybil's family was relatively well to do and she grew up as a young lady of privileged societal standing, her mother was related to the Masters family, well known in high society. In their New Forest home her mother and a group of friends regularly met for tea, they called their group the Pentagram Club. When she was fifteen years old and during one of the family's regular trips to the south of France, Sybil was initiated into a French coven based at George du Loup in the hills above Nice. According to Sybil, she was initiated to replace an elderly Russian aunt who had been High Priestess of the coven, and it was from this coven that the New Forest covens in England were descended.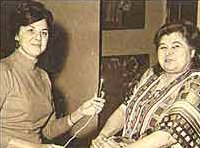 Returning home Sybil met a well-known pianist-conductor who was 24 years her senior. Despite the age difference they fell in love and were married shortly after her 16th birthday. During the relative quiet of the pre-war years they toured and traveled about England and Europe. He died two years later and she returned home to Hampshire. During World War II, Sybil joined the Red Cross and worked as a nurse in a military hospital near Southampton. Later she was sent to help nurse the wounded at Anzio Beach, before returning to England and being stationed at a military barracks in the isolated Scottish Hebrides Islands. She ended the War with a handful of medals, but the prosperity of her family had been lost to the austerity of the War.
After the war and into her twenties, Sybil returned to Hampshire and lived in a small village called Burley situated in the heart of the New Forest. There she mixed with and lived among the Gypsies. She also joined their 'Horsa' coven, a coven they claimed had existed for 700 years. The Gypsy knowing she was a witch born, accepted Sybil as one of their own. From them she learned a great deal about herbal potions and elixirs. When the time came for her to move on, they honored her in the traditional Gypsy way reserved only for the most respected of outsiders. They made her a 'blood-sister'. This was done by cutting her wrist and mixing her blood with the blood of the Gypsy leaders.
While living in Burley, Sybil started up and ran a successful antique shop. Then at some point she met and married a man called Brian. Together they had two sons Stephan and Julian who are reported to have inherited the family's psychic gifts. While walking in the woods one day Sybil had a vision, it brought to her the realization that her purpose in life was to promote the craft and the Old Religion. She began to do just that and into the 1950's her reputation as a Psychic, Astrologer and Witch, began to attract attention. Media publicity brought tourists to her village but in the wake of autograph seekers her antique business began to suffer. Witchcraft was still viewed with suspicion in those times and her landlord refused to renew her lease unless she publicly denounced it. Sybil declined and was forced to close up shop and leave.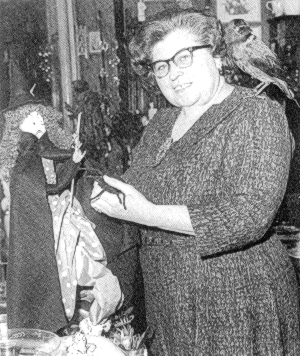 Sybil with a witch doll in her Antique Shop.
With the revival of a modern Witchcraft movement in the late 1950's early 60's, and the growing prominence of such people as Gerald B. Gardner, Alex Sanders, and Arnold Crowther. Sybil feeling she still had more to do accepted an invitation to visit the United States, there witchcraft in general was still in its infancy. After making several media appearances in the States, she decided to stay and become a resident. She settled first in New York but found it a depressing city and particular gloomy in winter. Later she moved on to Los Angeles which was much more agreeable. There she became acquainted with Aleister Crowley's old secretary Israel Regardie, and much they must have reminisced about the great man.
In her later years Sybil moved again to Melbourne in Florida, and divided her time between there and her work base in Houston. She continued to promote the craft and the Old Religion in a positive sense, both as an author and a media celebrity dispelling myths and educating the public. She worked as an astrologer and gained quite a reputation in the field editing and publishing her own astrological journal. Such was her reputation that she toured frequently holding lectures throughout the States as well as making trips to England and Europe.
Strong in defense of her beliefs, Sybil sometimes differed and even quarreled with other witches. She wrote and spoke a great deal about reincarnation, guided she said by the spirit of Madame Helena P. Blavatsky, the cofounder of the Theosophical Society. She disapproved of nudity in rituals, a requirement in some traditions, and was strongly against the use of drugs as were most modern Witches, but she was at odds with most other witches in that she did believe in cursing. She was also one of the first of the modern day witches to take up environmental causes.
Sybil died on the 26th October 1983. One report of her death has it that a train derailed near to her Melbourne home and dosed her with a toxic gas. She will be remember as a remarkable woman of many accomplishments, a gifted Psychic, Astrologer and Writer who did much to influence the revival of the modern day movement. Blessed she be.
Some of the many books she wrote are: Diary of a Witch, My Life in Astrology, The Night Voyagers, Numerology: The Magic of Numbers, Phrenology, Reincarnation: The Second Chance, Star Speak, Astrological Guide to Love and Sex, Astrological Guide to Financial Success, Astrology and Love, Driving Out the Devils, Sybil Leek's Book of Curses, Sybil Leek's Book of Fortune Telling, Moon Signs, ESP - The Magic Within You, Herbs, Medicine and Mysticism, Complete Art of Witchcraft, The Jackdaw & The Witch (Mr. Hotfoot Jackson), and How To Be Your Own Astrologer.