In an almost barren wilderness, surrounded by the waters of the Great Egg Harbor, Atlantic ocean and Delaware bay, settlers of the county went hunting for wild fowl and found more than enough fish, clams and oysters in the sounds and inlets for their needs...Those that did not go whaling and fishing, built their homes and began to raise cattle on recently purchased land.
Most of the settlers fled New England seeking religious freedom, others fredom from fear. One of these was Elizabeth Garlick, of East Hampton, Long Island. Elizabeth was accused of Witchcraft and had her trial set in Hartford Connecticut. After hearings in several courts, she was set free, and came to Cape May County in 1691 as the wife of John Parsons and the mother of Lydia...They found refuge here settling on land later called the Leaming Plantation, now Rio Grande.
Lydia married Captain William Shaw and after his death married Aaron Leaming in 1714...from this union they had four children, Jeremiah, Mathis, Elizabeth and Aaron II.This marriage brought Aaron and Lydia the property of Captain Shaw at Town Bank and mother Elizabeth's Plantation.
No one knows exactly where Elizabeth is buried, but Lydia's grave can be found in a wooded section close to the Rio Grande exit of the Garden state Parkway...perhaps Elizabeth rests nearby.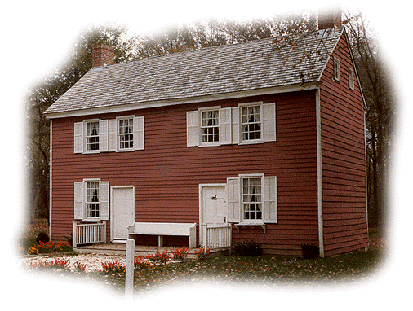 The Spicer Leaming House, Built by Jacob Spicer whose grandaughter married Christopher Leaming III
Although Elizabeth Garlick's homestead has long ago crumbled to ruin...the home of her great nephew Christopher Leaming III can still be seen restored at Historic Cold Spring Village.
Click here for the trial records of Elizabeth Garlick
Back to Covenant of Rhiannon Homepage
Some information paraphrase from "Cape May County Story" by George F. Boyer, and J. Pearce Cunningham...published by Laureate Press, Egg Harbor City, NJ